by Howard Clemens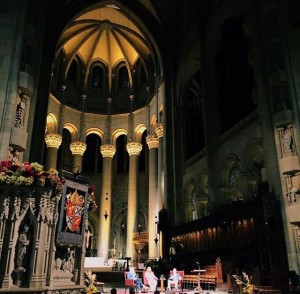 When most people hear the word 'cathedral,' they generally think, initially of cities like London, Paris, and Rome. But it's also true that many wonders of religious architecture are located in North America. And New York City, in particular, is home to some of the most breathtaking cathedrals in the world. Which means that student travel groups headed to NYC looking to experience the full impact of architectural excess and Catholic iconography are in for a truly immersive treat.
Exploring all of the Big Apple's cathedrals is a no small task. For Catholic school trip leaders, a full Cathedral Tour of NYC may be desirable. Other class trips may choose to incorporate a tour of one of New York's cathedrals in a neighborhood they are visiting, or to expand upon the study of a historical period.
Consult with an educational travel company prior to building an itinerary that showcases some of the city's most impressive cathedrals. So where is a trip leader of a student travel group to begin? This short list of cathedrals in NYC is a great place to start.
Saint Patrick's Cathedral: A NYC Landmark
With its spectacular Neo-Gothic architecture and interiors modeled on the ancient churches of Italy, the world famous St. Patrick's Cathedral is a magnificent starting point for any student tour of NYC. The cathedral has over 65 stained glass windows, the most famous being its 26-foot rose window, a towering masterpiece made up of more than 10,000 pieces of glass in a dazzling variety of colors. Students can also see a statue of the Lady of Guadalupe at the Altar of the Sacred Heart, an awe-inspiring devotional site that's lit by hundreds of candles. For student groups visiting other sites in Manhattan, St. Patrick's location is perfect. It's right in the middle of bustling midtown Manhattan, across the street from the Rockefeller Center and its ice-skating rink. A visit to Saint Patrick's is worthwhile. After visiting the cathedral, student tour groups may want to cap off the day with a fun-filled whirl across the ice.
Saint John the Divine: The Fourth Largest Christian Church in the World
The Cathedral of St. John the Divine, located in the Manhattan "college neighborhood" of Morningside Heights, has the notable distinction of being the fourth largest Christian church in the world. The church is known for its exquisite works of art, which include the Barberini tapestries, woven in the 17th century and inspired by the life of Christ. Saint John the Divine's entrance is magnificent with its bronze doors, which were cast by Ferdinand Barbedienne of France, the same artist who cast the Statue of Liberty. The cathedral also has its very own cultivated Biblical gardens, which feature a wide variety of the plants and flowers that are mentioned in the Bible. Student travel groups may even take a guided rooftop walking tour, taking them up spiral staircases that wind up to the very top of the cathedral. Since Saint John the Divine is located in an academic neighborhood, groups can take the opportunity to spend part of the day touring famous nearby institutions such as: Union Theological Seminary, the Manhattan School of Music or Columbia University.
Riverside Church: History and Architectural Grandeur
Morningside Heights is also home to Riverside Church. As the tallest church in America (and the 24th tallest church in the world), Riverside covers two full city blocks and boasts a 392-foot bell tower. It is also known for its impressive stained glass apse dome, and for the labyrinthine "maze" inlaid on its floors. The church has a rich cultural and social history. Dignitaries such as Martin Luther King to Nelson Mandela have spoken there. The Riverside Church has its own theater, which is has been host to many musical and dance performances.
New York City has many cathedrals in different neighborhoods, as well as churches with longstanding religious and political histories. These three itinerary selections were made because they are in Manhattan and all student groups visit this part of New York City. To further enhance the student travel experience, work directly with an educational travel company for even more ideas on cathedrals to visit in NYC.
Inquire about booking a cathedral tour that's bound to be as spiritually enlightening as it is fun and educational: email Educational Travel Consultants at info@educationaltravelconsultants.com, or visit http://www.educationaltravelconsultants.com.