This year, Broadway Musicals are more popular than ever with student tour groups going to New York City.  I usually recommend the most sought after tickets on Broadway to student trip leaders. This article contains my selection of musicals popular in 2014. If an educational travel company works far enough in advance (six months to one year) we usually can obtain group tickets to the performance of choice.  For many school trips, large blocks of tickets are required.  So, working in advance as much as possible is key to obtaining a block of seats for the musical of choice.
Since the popularity of Disney's High School Musical, many student travelers are interested in attending a Broadway Musical. For some, it is an once-in-a-lifetime event. Make it special for students by making them part of the process. Teachers may discuss which musical to see while still in the planning stages of a student trip.
Here are my recommendations for student travel groups in the 2014 Broadway season: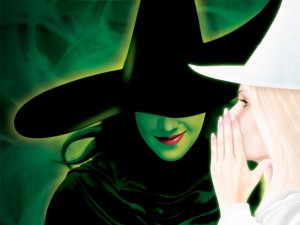 Wicked
This popular musical offers a new twist on the Wizard of Oz, told from the perspective of the green, (bad?) witch.  Audiences will get to know Glenda, the good witch, too.  Wicked turns ideas about magic and the Wizard of Oz upside down, and does it with terrific songs and a great storyline that follows the novel, Wicked, closely.  For audiences, the stage set of Wicked will offer some special supernatural surprises showing the depths of the power of Oz with digital light and sound effects and phenomenal stage construction.  Wicked is taking the U.S. by storm, offering shows in major cities, too.  But there's nothing like seeing Wicked on Broadway.

Mamma Mia
Many people expect Mamma Mia to be an Abba tribute. It's true that the musical uses Abba's music in the Broadway Musical production. The storyline for the musical is unique, and originally written, with Abba songs woven through it. It's about a woman in search of her real father, and on her wedding day, three of her mother's former boyfriends present themselves. Mamma Mia is set in the era of Abba music, the 1970s, and uses retro costuming and stage sets to glamourize the period.  This musical is now celebrating its 10th year on Broadway!  Dancing Queen, and the signature song, Mamma Mia are some of the songs audience anticipate. It's the kind of musical where you will see people dancing and singing along.
The Lion King
This epic production of Disney's The Lion King is not to be missed. This musical has it all.   Thanks to costuming and scenery that captures the magic of Africa, an all star cast headed by Alton Fitzgerald White as Mufasa and Gareth Saxe as Scar and music and lyrics that inspire — The Lion King is one of the hottest tickets on Broadway.   In New York City there are eight performances each week.  Teachers interested in taking classes to see The Lion King need to book as far in advance as possible.
The Phantom of the Opera
This Broadway Musical has been a top running show for decades and can be considered an all time classic.  With the lyrics to The Phantom of the Opera by Andrew Lloyd Weber, the soundtrack has become familiar to many.  Learn more about the Phantom, a mysterious male figure who resides in the depths of the Paris Opera house, and roams the building whenever he pleases.   The Phantom is in love with Christine, a new, young chorus singer he helps teach – and catapults to operatic fame.  The costuming, scenery, music and dance are sure to thrill and captivate any student group audience.
Seeing a show on Broadway in New York City is a wonderful experience for any student.  Selecting the show is often difficult for trip leaders, because there are so many excellent, worthwhile musicals to see. This is my own selection of Broadway Musicals that are popular right now – and appropriate for student travel groups. There are numerous other plays student groups may enjoy or educators may find Broadway Musicals which parallel their curriculum in some way.  Learn more by visiting Broadway.com.
Include a Broadway musical in a school trip to New York City. Book a school trip today by visiting http://www.educationaltravelconsultants.com.