Band trips for high school students include a public performance as the main objective of the trip.  Some performance groups travel specifically for adjudicated festivals, which usually occur on the weekends from early April through the end of May. Other bands, orchestras and choral groups schedule performances at notable pubic venues in major cities.  The Washington D.C. performance trip is especially rich because it gives students a chance to play in heavily trafficked public venues such as:  the Lincoln, Jefferson, or FDR Memorials, the White House ellipse, Union Station or the U.S. Navy Memorial. Student travel groups can also enjoy the many other sites in D.C. and engage in fun entertainment activities.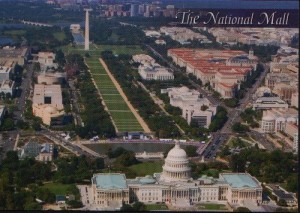 The White House Ellipse
The White House Ellipse is a nice venue for warmer months, where high school bands and orchestras can play outside. The ellipse is a circular driveway that surrounds an open field. Here, many citizens have demonstrated or participated in community functions.  This open area of the President's Park outside the White House is a highly visible location for a performance group to showcase their talent and is available for performance group trips with enough advance notice.
Lincoln, Jefferson & FDR Memorials
Located on the National Mall in Washington D.C., the Lincoln Memorial offers a splendid view and excellent exposure for student performance groups.  Also on the National Mall, The Jefferson Memorial was completed in 1943 and it was built to resemble the Roman Pantheon, with a circular colonnaded style of architecture, which Jefferson himself brought to America. He was a true statesman, scholar and architect, among many other distinctions.  There is a statue of Jefferson within the memorial, looking out towards the White House.  There is also a statue of the five members of the Declaration of Independence drafting committee submitting their report to Congress, and five excerpts from Jefferson's writing adorn the walls. These snippets encapsulate his main thoughts and philosophies.  Both Memorials are iconic American statues celebrating two of the greatest presidents.
Franklin Delano Roosevelt (FDR) Memorial
Also on the National Mall in Washington D.C. is a memorial to one of the greatest Presidents of the United States – Franklin D. Roosevelt.  His presidency occurred during the 1930s and the 1940s and spanned the Great Depression and World War II. Despite having polio and being restrained to a wheel chair in later years, Roosevelt's leadership is renowned and his legacy remains strong.  FDR's statue is cast in a sitting position with a cloak draped around him and his dog is by his side.  On the other side of the memorial are men in a bread line waiting for food, signifying the Great Depression.  Because the Memorial is outdoors, on the National Mall, it provides a spectacular amount of visibility for student bands and orchestras.
Union Station
Union Station in Washington D.C. has a rich history as one of the major crossroads of America. Opened in 1907 when the Baltimore and Ohio Pittsburgh Express came into the station, Union Station's construction was eventually completed in 1908.  The white granite construction is outstanding and it is embellished with many different images.  All of the wood features inside the Station are made from a deep, rich mahogany.  In the fall of 1988, Union Station reopened its doors after a restoration project.  Student performance groups have the chance to perform in this iconic structure, which still amazes many with its magnificence today.  Travelers can take all forms of rail through Union Station:  Amtrak, the DC Area Metro, Maryland Rail Commuter Service (MARC) or Virginia Railway Express (VRE). Bus service on all major public transportation lines as well as private bus companies such as Megabus, Bolt and Peter Pan can also be boarded and disembarked from at Union Station.  The bustling Station houses restaurants, newsstands and stores and is the location of many special events.
U.S. Navy Memorial
The U.S. Navy Memorial was dedicated in 1987, in the 212th year of the Navy's existence.  It is centrally located on Pennsylvania Avenue, between 7th and 9th Streets.  This public, outdoor park also has a Naval Heritage Center on site.  The Navy Memorial is centrally located and can easily encompass large groups for special events.  Student performers will find that a performance at the U.S. Navy Memorial puts them in the heart of the Washington D.C. political district, where Pennsylvania Avenue connects the White House and the Capital.
Trip leaders need to plan ahead with a recommended one year to six months advance to schedule a performance trip to Washington D.C. that includes their desired venue. There are numerous details of a performance trip, but it is well worth the effort.  Student travel groups need a special tour guide who is experienced in performance tours.   Musicians have to carry their instruments for performance tours in Washington D.C. and this may be bit complicated, especially if air travel is involved and airline luggage fees apply. A specialized tour guide will be able to test stage equipment pre-performance and take on other duties associated in organizing this type of student trip.
Many high school bands, orchestras or choral groups scheduled to perform in Washington D.C. usually stay four or five days so they have a chance to see the entire Washington D.C. area. Some performance groups will perform in Washington D.C. and take a short trip out to Mount Vernon or Arlington National Cemetery in Virginia.  Others may want to explore political sites such as the U.S. Capitol and the White House, or visit the National Archives or see inside the J. Edgar Hoover F.B.I. Building.
In the evenings, student performance groups can have fun, related entertainment, such as a stop at the Hard Rock Café or an evening at the Medieval Dinner Theater.  There are, of course, numerous other options to add to itineraries such as exploration of the Smithsonian Museums, or a visit to the newly opened Washington Harbor to ride the brand new observation wheel with a view of downtown D.C.
There are so many excellent touring sites that student musicians can see while visiting the Washington D.C. area.  And, trip highlights may be customized by the trip leader, band director or teacher. Request a quote for student performance trips to Washington D.C.