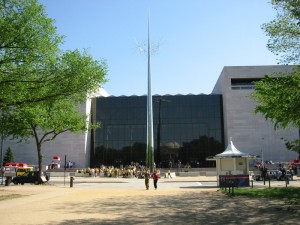 One of the most popular stops on a student tour of Washington D.C. is the National Air and Space Museum, part of the Smithsonian Museums.  The Smithsonian Museum is so vast it would be a huge challenge to construct a student group tour of each museum on just a four to five day visit. So, educators and student trip leaders need to be selective about which Smithsonian Museum fit best with curricular objectives.  For science, history and social studies students who want to be exposed to the evolution of air and space travel – the National Air and Space Museum is a winning choice.  Students learn through contemporary interactive exhibits designed to keep their attention.
This overview of the National Air and Space Museum will highlight major parts of it. This is a great snapshot of the Museum's offerings, so student trip leaders can plan on which places in the Museum and exhibits to include in their visit beforehand.  Social studies, history and science teachers may be interested in using educational materials found on the website to prepare students in advance of a student trip to Washington D.C. Visit the Explore and Learn section of the National Air and Space Museum website to download classroom materials.
National Air and Space Museum Exhibits
There are so many exhibits to choose from at the Museum in Washington D.C. Some historical exhibits include: Early Flight, Apollo to the Moon and the Barron Hilton Pioneers of Flight Gallery.  Exhibits that showcase contemporary technology developed by scientists include:  Lunar Exploration Vehicles, Military Unmanned Aerial Vehicles (UAV) and Moving Beyond Earth. These are just a sampling of a long list of extraordinary topics related to air and space.
For history students, a focus on specific periods may work best. Many students study the major U.S. conflicts. See World War I; the Pre-1920 Aviation exhibit, which covers this era; and, World War II Aviation spans the 1930s and 1940s.  One of the most popular exhibits at the Museum is Spirit & Opportunity: 10 Years Roving Across Mars.  This particular exhibit focuses on notable accomplishments of two Mars Rovers and is on exhibit through September 14, 2014.  Learn more about other exhibits by visiting:  http://www.airandspace.si.edu/exhibitions/mer/.
Albert Einstein Planetarium
Student groups may have time to catch a show at the Planetarium.  Shows last only 25 minutes.  Choose from Journey to the Stars, Undiscovered Worlds and What's New in Space Science. All movies are scheduled at different times during the day, usually in half hour increments. So when student groups visit they may be able to work one movie in.

Lockheed Martin IMAX Theater
Viewing a show at the IMAX Theater at the National Air and Space Museum will cost extra for the students and chaperones in the group, but it's well worth $7.50-10 fee.  IMAX films are as close to re-creation of reality as possible, heightening sight, sound,  and vision for the spectator.  Choose an IMAX movie that parallels nicely with classroom activities. These include:  Air Racers 3D (Watch Reno Air Races from a pilot's view), Hubble 3D (Astronauts on a mission to save the Hubble Space Telescope), The Dream is Alive (Space Shuttle simulations), and To Fly! (A journey through the history of flight).
Public Observatory
On a group visit to the National Air and Space Museum, try to schedule enough time for students to visit the Phoebe Waterman Haas Public Observatory.  Access to the Observatory is through the East Terrace.  Hours are 12-3 p.m. Wednesday thorough Sunday, weather permitting, so there is a small window of opportunity. The reward is that on clear days students can observe the sun, the moon, and phases of Venus, as well as other sights and phenomenon.
For those interested in the development of aircraft and air travel and space exploration, a visit to the National Air and Space Museum is probably the most comprehensive view of the history of U.S. technological advances over the past century – and into the future. This is the type of Museum most students, teachers and chaperones can get excited about visiting.  To plan a student trip to Washington D.C. that includes the National Air and Space Museum, visit Educational Travel Consultants website.